Free Coffee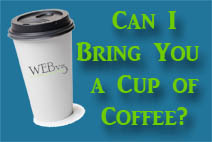 Can I buy you a cup of coffee?
If you will invite me into your office or a nice place to meet, I would like to buy you a cup of coffee. I'd really like to learn about your online marketing efforts; website, microsites, social media, blogging, and SEO.
I'd like to know what is working well and where you may be having any trouble. This is a learning experience for me and I would be mighty grateful for your time.
I promise I am not trying to sell you anything.
I don't even know yet if I can help you.
If in the course of our meeting there are some ways our companies might be able to work together, I'll let you know. BUT this is not a sales call.  I am not going to come to your office with a powerpoint and bore you with a bunch of features and benefits.
Just a conversation over a cup of coffee.
[contact-form-7 404 "Not Found"]
We frequently meet at Professor Java's on Wolf Road, in Albany or  Mocha Lisa's in Clifton Park, NY or Uncommon Grounds, in Saratoga, but we can meet anywhere that is comfortable for you. Now we love the brand new Creekside Cafe in Burnt Hills.
This offer for free coffee is available to anyone near our Glenville, NY offices.  Many of our clients are in Albany, Schenectady, or Saratoga Counties, but I don't really care if you are a little out there, I love to drive.  Fill out the form and let's talk!