Mobile Websites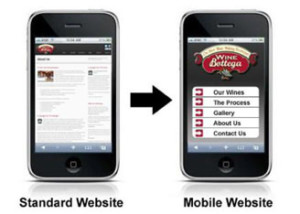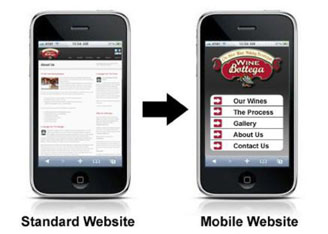 Without a mobile website you are losing money!
With millions of people (many of them here in the Capital District) using their iphones, ipads, smartphones and cell phones to browse the internet, a specially developed "mobile website" is an important piece of a business owners online tool set for online or internet marketing.
Some smartphones, like Apple's iphones, will scale any website down to fit on a smartphone browser but everything becomes so small it can be very hard to use.
Without a mobile website you are losing money!
Watch our short mobile website video!
Mobile Website Design and Development in Albany, NY
The solution is to create a
mobile website designed specifically for smartphone
and tablet use.  A properly developed
mobile website
will detect the mobile browser and deliver the
mobile website to smartphone
and tablet users without affecting the primary
website
at all. 
This way users get the website best suited for their browsing experience.
Often, mobile websites reduce the amount of content and options available so that browsers can access important information to the mobile website user; contact information, phone number and directions easily while still allowing mobile browsers to switch to their "full website" if they choose.
For an example of this technology visit our corporate website on your laptop or home computer atWEBv5.com and then visit our mobile site by using your cell phone, iphone, droid or other cell phone with an internet browser.  Now click on www.WEBv5.com and you will see our mobile website.
If you are interested in discussing a mobile website for your business, please contact us using the contact form to the right, and we will get in touch with you to discuss the options and possibilities.  At WEBv5 we can use your current website design to create a special mobile website for you starting at just $995.
If you are looking for other examples of mobile websites check out www.NFL.com – the NFL's website and then use your smartphone to view the site and you will see how it is specially developed for smartphone compatability.  Many news agencies also have their own mobile version to make mobile browsing easier and more intuitive.
Contact us today to learn about mobile website development for your organization.
At WEBv5 we do mobile websites. We can work with you to design the perfect mobile compliment to your primary website, we can help you optimize your website for mobile smartphones and we can help you with mobile landing pages.
Mobile marketing is important as more and more people surf the web with their smartphones. In NY's Capital District, mobile phone and smartphone use for internet browsing is above the national average. Don't lose your potential clients in Albany, Saratoga, Troy, Schenectady and the surrounding area because your website "doesn't work on a smart phone!"
MANY designs to choose from or get a custom design! Click a phone for a larger view.