SEOD – Search Engine Optimization Demystified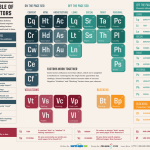 Don't want to read our blog… listen instead.  Click Here to have our SEO blog Search Engine Optimization Demystified read to you while you do other things…
Or
Search Engine Optimization is a very important subject to anyone who has a website.  Everyone of my clients wants to talk about SEO or Search Engine Optimization. And they should.  But I hear some really funny things from people when it comes to SEO.
Much of the time people talk to me as though there is some magic SEO pixel powder I can sprinkle on their site and suddenly they will be at the top of the search results for every keyword or keyword phrase in their website!
Think about the logic for a second and you realize that not every business can be on top of Google's search engine results page for every word or every key phrase.  It just doesn't make mathematical sense.
People also ask if I can get them their SEO number, like a credit report score.  Websites don't have SEO scores. Even if they did,  it would be derived from the  keyword phrase not the website as a whole.  So a single website would have hundreds, perhaps thousands, of SEO scores depending on which keyword or keyword phrase was being examined.
SEO is part science and part math.  This is one of the reasons I love the Search Engine Optimization business.  I love both the science and the math of it.  But never before have I seen anyone put such a clear face on  a subject so mystifying to so many until now.  Google's search engine ranking algorithm is proprietary so no one knows what it is but lots of really smart people at Search Engine Land came up with this at a recent conference and I really want to share it with every business owner who has a website.
If you are interested in talking about SEO or how your company can improve their website's rankings, please use the contact form to your right to let me know and how and when you would like to start the SEO conversation.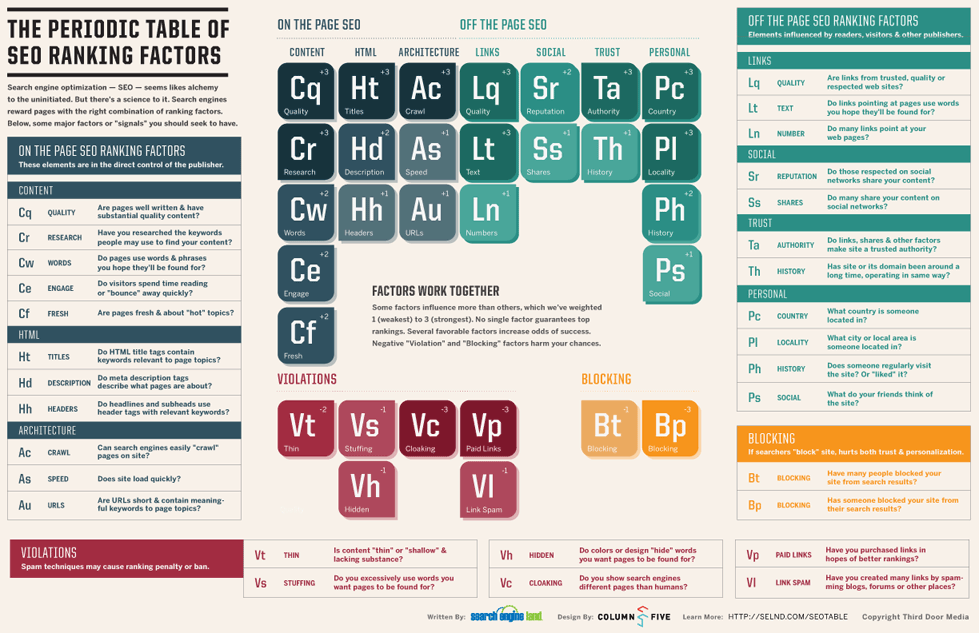 SEO TABLE USED WITH PERMISSION
I studied the chart and I think it demystifies Search Engine Optimization. I love the way it presents the information so I really think it is worth passing along. Just
With our Search Engine Optimization clients, we don't employ SEO tricks.  We help clients understand that Google is trying to award good content that delivers what the "Google Searcher" is looking for.
Figure out who is searching for you and what their "pain" is.  Address these "pains" with good, quality, content and you will be doing what Google wants and for your important keyword phrases you will be listed at the top.  Knowing who is looking for you and what they really want is mission critical and the first step in our process.  Once we know "who" we work with you to understand the "why" and "how" and then we help you develop content that delivers what they need to hear, read, & see.  Through this process you will get the rankings you deserve.
If you are using "tricks", "software" or other things designed to beat Google at their game and get high rankings for undeserving sites, you are probably doing more harm than good.  Take "backlinks" for example; I get offers for "backlink software" and "backlink services" several times a day.  Google places some value in the number of people who link to your website.  So these companies, for a fee will setup links to you from hundreds or thousands of "sites in their network."  They could be any kind of site and maybe not someone you really want linking to you. At WEBv5 we work with you to find quality resources, websites, and other places online and offer them reasons to link to your site.  These are the type of quality backlinks rewards you for, not the garbage sold as a "trick." Google has smart geeks.  If you fool them for a short while you may have won something, but they will outsmart you sooner than later.
We can help you build strong marketing strategies to increase your SEO.  If you are interested in in discussing your online goals please use the contact for to your right.  WEBv5 will offer you a free consultation where we can discuss you SEO goals, answer any SEO questions you may have and see if we might be a good fit to work together.