Mobile Website Strategy: A "real" Mobile Website is more than just converting your website for mobile devices
**At the bottom of this post see how YOU CAN GET A FREE MOCKUP of YOUR MOBILE WEBSITE!  Plus for a limited time we will create a mobile website for you and waive the mobile design fee of $249 and you pay only $24.99 and you can cancel anytime.
If your mobile website is nothing more than your primary site converted for mobile display you are missing great mobile marketing opportunities.
More than 50% of all website surfing traffic is done from a smart phone or a tablet computer.
More smart phones and tablets exist than pc's.
If your business doesn't have a mobile website, you are losing business, losing leads, losing clients, and yes… losing money.
If you have a mobile website but it doesn't have it's own strategy, you are better off than if you didn't have a mobile optimized site but you are still missing great marketing opportunities that smart phone technology makes available.
Here are some of today's best smart phone marketing opportunities: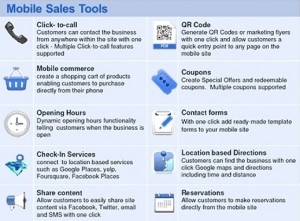 Click to Call – Many mobile users simply want to be able to click one easy to find button to call you.

Click to Contact – Mobile users need easy access to your email or contact form.

Click to Find on GPS or Maps – Many people use mobile websites to find a business location.  Rather than hunting for your address, copying and pasting it into their GPS or Maps program, a good strategy let's them do it all with the push of one button.

But that isn't all.

A well designed mobile website has it's own marketing strategy including reservation systems for restaurants, salons, etc.

QR codes, Online Coupons, Social Media links, Check-in service, and mobile commerce can be critical pieces of your mobile strategy.

If you think that your business doesn't need a mobile strategy or a mobile website, please take a look at these quick videos.  I know you are busy, but these videos could save you mistakes that will cost you tens of thousands of dollars in lost revenue.

 Here is a simple before and after look: http://webv5.mobilewebsiteserver.com/compare/thebierabbey

Would you like to see what your mobile site could look like? We'll give you that for FREE!

Contact us today and we can have your mobile strategy and mobile website deployed tomorrow and you risk nothing.  Pay only $24.99/month if you like the FREE mockup we send you.

Act now as we are waiving the $249 setup fee for a very limited time!

WEBv5, is based in Saratoga, NY and specializes in WordPress website design, mobile website design, SEO, Social Media and Marketing Strategy.  Call 518-542-7959 for a free consultation. WEBv5 serves Saratoga County, Albany County, Schenectady County and clients all over the United States and Canada.